Bush Hog built BSR V-Rakes
Bush Hog built V-Rakes are designed to handle any kind of hay crop.
8 Raking Wheels, Rakes Max 19',
10 Raking Wheels, Rakes Max 20'8",
12 Raking Wheels, Rakes Max 24'2".
First wheel locks up for heavy Hay,
32" - 83" Windrows,
Folds-Up to a 136" Transport Width.
This Single wheel model has a patented
spring float system for each wheel.
Our Price includes Kicker Wheel Kit.
High frame clearances.
Minimum 30hp Tractor Required.

LIST Price
1 In Stock BSR8 $ 7,563.00
2 In Stock BSR10 $ 8,996.00

1 In Stock BSR12 $ 9,990.00
Demo BSR10
Great Price on BSR12
Farm King
MDN6 & MDN7 Disc Mower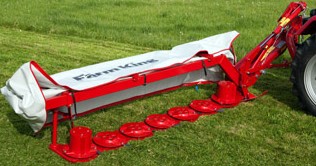 Farm King (built by Marangon )
6 or 7 Round Cutting Discs,
2 Blades per Disc,
3000 RPM Blade Speed,
Reinforced Cutter Bar,
Round RH Swath Wheel,
6 Bolt Top Serviceable Cutterbar,
Min 45 HP and 1 Hydr Coupler Required

LIST Price
MDN6FK - 8ft 1in Cut
1 Instock $9,580
MDN7FK - 9ft 4in Cut
1 Instock $10,065
Both On Sale
new Farm King RT417VTFK Tedder

Farm King (by Rossi)
VORTEX Tedder,
4 rotors, 6 arms per rotor, teds 17ft,
16x6.50x8 tires, min. 20hp,
New Heavy Duty Frame
( One of the Strongest Frames made )
Wings are single acting Hydraulic Fold.

1 InStock LIST Price $ 7,750.00
ON Sale